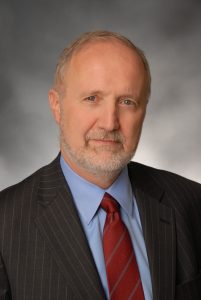 Edward T. Smith joined GAMA in 2005 following a 25-year career at the U.S. Department of State. His primary responsibilities include the development and coordination of strategies to address trade, market, environmental, legislative, and regulatory developments and policies that affect the manufacture, sale, and operation of general aviation products worldwide. Ed was brought on board to manage GAMA's fast-growing international agenda; in 2008, he also assumed responsibility for the environmental portfolio and established GAMA's Environment Committee.
Ed was instrumental in crafting the industry's climate change commitments announced by GAMA and the International Business Aviation Council (IBAC) for business aviation, including carbon-neutral growth by 2020. In 2009 he established GAMA's branch office in Brussels. The Brussels office gives GAMA and its member companies a platform from which to participate more effectively in aviation policy-making in the European Union (EU). It also provides enhanced support to GAMA's Europe-based members as well as to those that have facilities or operations in Europe. This has facilitated a shift in the Global Markets (formerly International Affairs) Committee toward a focus on market and regulatory developments outside North America and Europe. In this context, Ed has directed the expansion of the industry's profile and voice in fast-growing markets in India, China, and the Asia-Pacific region.
Ed is a member of IBAC's Environmental Issues Working Group (IBAC/EIWG) and of the Environment and Energy Subcommittee of the FAA's Research and Development Advisory Committee (REDAC). He also serves on the U.S. Department of Commerce's Industry Trade Advisory Committee on Aerospace Equipment (ITAC-1).
Prior to joining GAMA, Ed was Director of the Office of Aviation Negotiations at the U.S. Department of State, where he led negotiations for bilateral air services agreements and oversaw the United States' aviation relationship with international partners. During his diplomatic career Ed served in Europe, Latin America, and the Caribbean, and held several economic and regional policy positions at the Department of State in Washington.
Ed is a graduate of Georgetown University and pursued graduate studies in economics at McGill University. He speaks Spanish and Italian, and some French and Portuguese. He is a member of the International Aviation Club of Washington and of the American Foreign Service Association (AFSA). He lives in Washington, D.C., with his two sons.
Ed serves as the staff contact for the Environment Committee and the Global Markets Committee.
Reach Ed at +1 202-393-1500.