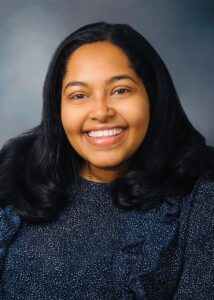 Blain joined GAMA in November 2019 after graduating from The George Washington University with a B.A. in Political Science. Previously, she was a file clerk at Whiteford Taylor Preston, LLP and learned a lot about the legal field at this law firm. Blain is a Virginia native and plans to stay in the DMV due to her love of nature and the various historical landmarks. She is preparing for her LSATS to go to law school in the near future, and she is planning to apply to GWU Law School.
Her hobbies include writing poetry and spoken word, debate coaching at high school debate tournaments, leading Bible studies, and spending quality time with her family and friends. She also loves taking photos for her sister's online fashion blog. Blain is working with her family to establish a foundation for the loss of her cousin, Fesha Girma, to commemorate his life and spread awareness of pedestrian laws, rules and regulations. Blain is so overjoyed about working for GAMA and will continue to work hard to pursue her future aspirations.
Reach Blain at +1 202-393-1500.