In an effort to help facilitate more aviation enthusiasts into the pilot community, GAMA is hosting a ground school in January 2018! In order to receive a Federal Aviation Administration (FAA) private pilot certificate, you must meet certain requirements, including passing a written knowledge test and a practical flight test. Ground school will help prepare you for the knowledge test.
Ground school will begin on January 8, 2018, and run each Monday for 12 weeks, excluding holidays. The classes will be held at our offices in Washington, DC, from 5:30-9 p.m. ET. We will provide dinner.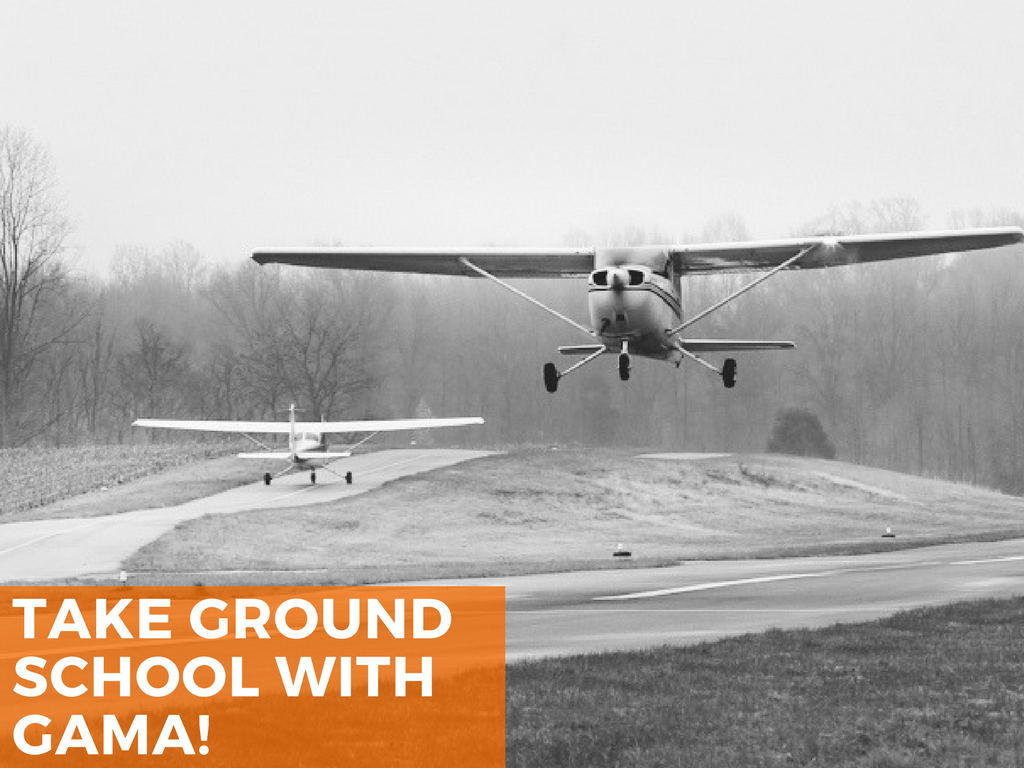 The cost is $300, which includes course materials. Please bring a check made out to "General Aviation Manufacturers Association" to the first class.
The registration deadline is December 31, 2017. Please register via this form. Class size is limited to the first 20 people.
Dan George will instruct our ground school. Dan is a full-time flight instructor at Freeway Airport (W00) in Bowie, Md. He holds a commercial pilot certificate for single and multi-engine airplanes, and is a Certified Flight Instructor as well as a Certified Instrument Instructor. Dan began his journey in aviation some years ago after taking a Cape Air flight on a small Cessna 402 out of Boston Logan Airport and signed up for an introductory flight at a local airport. In his former life, he was a CPA.
Frequently Asked Questions
What is ground school?
Ground school is a course that will help you learn some of the knowledge necessary to be an FAA-certificate private pilot and to take the FAA private pilot airplane knowledge test. This knowledge test is a written (computer-based) exam and a prerequisite to becoming an FAA-certificated private pilot.
What will I learn at ground school?
At ground school, you will learn about subjects such as aerodynamics, aircraft systems, aircraft operation, rules for flying, aeronautical meteorology and aeronautical navigation.
What is a private pilot certificate?
There are several different types of pilot certificates. A private pilot certificate will allow you (subject to medical and currency requirements) to fly a variety of aircraft almost anywhere in the United States and carry passengers. You can learn more about different FAA pilot certifications on the FAA's website.
What are the requirements to become a private pilot?
To become a private pilot, you must be at least 17 years old; read, speak, and understand English; obtain a medical certificate; obtain the requisite knowledge and hands-on flight training; pass a knowledge test (computer exam); and pass a practical (flight) exam.
Will I fly a plane as part of ground school?
No. Ground school will take place "in the classroom" and help you learn the underlying knowledge necessary to be a pilot. Some people prefer to take flight lessons at the same time as ground school; if you wish to do that, there are numerous airports in the DC area with flight schools.
What do I need to bring to class?
You do not need to bring anything, but you may bring a notebook and a pen if it helps you to take notes to learn. GAMA will provide snacks, dinner and ground school materials.
What if I miss a class?
If you miss a class, you can discuss with the instructor how to cover the materials you missed.
Please call us at +1 202-393-1500 if you have any questions not addressed here!