GAMA Welcomes Four New Memberships
GAMA Board Hears from Brigadier General Charles McGee
WASHINGTON, D.C. – Today, the General Aviation Manufacturers Association (GAMA) announced the addition of Sikorsky as a Member and eRC-System, Genuen and Universal Hydrogen as Associate Members EPIC.
Sikorsky, a Lockheed Martin company, has been pioneering flight solutions that bring people home everywhere, every time since 1923. Together with Lockheed Martin, the company brings an unwavering commitment to help its customers succeed and is principally engaged in the research, design, development, manufacture, integration and sustainment of advanced technology systems, products and services.
eRC-System GmbH is currently based in Ottobrunn, Germany, and was founded in 2020.They develop manned electric vertical take-off and landing aircraft (eVTOL) with the objective of reducing locational inequalities – everywhere on earth.
Genuen is headquartered in Lenexa, Kansas, and was formed in 2020 through the acquisition by CertTech of WTI and Butterfield. They provide test data solutions across the entire product development lifecycle, including for the aerospace and urban air mobility sectors.
Universal Hydrogen is based in Los Angeles, California, and was founded in 2020. They are developing hydrogen storage solutions for aviation and conversion kits for aircraft.
The memberships were approved by GAMA's Board of Directors during its recent Spring Meeting. The meeting also included various guest speakers, including Tuskegee Airman and three war fighter pilot – U.S. Air Force Brigadier General Charles McGee. GAMA President and CEO, Pete Bunce, led a discussion with Brigadier General McGee chronicling his life; his service as a pilot during three wars, in which he flew 409 combat missions; and his dedication to inspire future generations.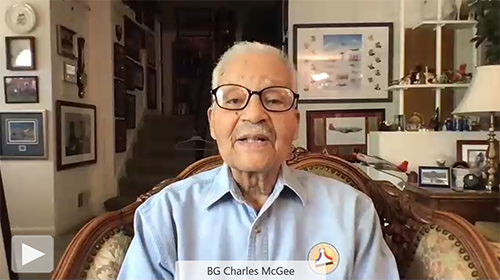 Click on the image above to view the discussion with USAF Brigadier General McGee, or visit youtu.be/r3lhyd6A3Mw.
For more information about GAMA membership criteria, visit gama.aero.
###
---
GAMA is an international trade association representing over 100 of the world's leading manufacturers of general aviation airplanes and rotorcraft, engines, avionics, components and related services. GAMA's members also operate repair stations, fixed based operations, pilot and maintenance training facilities and manage fleets of aircraft. For more information, visit GAMA's website at www.GAMA.aero.