The Maintenance, Repair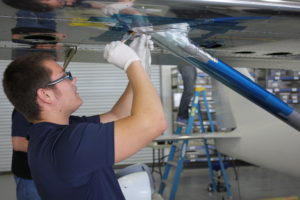 and Overhaul (MRO) sector offers a significant potential for growth in the Business and General Aviation sectors in Europe, but also faces a number of regulatory challenges. Therefore, in 2017, GAMA launched a new initiative to bring together the key stakeholders in this sector to identify these challenges and launch a programme of work with regulators to resolve them. GAMA held an initial workshop in Brussels, Belgium in March 2017, with over 30 attendees from OEMs, repair stations, operators, and training organizations in attendance, as well as guest speakers from EASA. Through discussion with EASA, the attendees identified the following opportunities for improvement in regulation and oversight:
Standardization between Member States: there is a need for a forum to raise and manage regulatory interpretation issues between Member States, EASA and industry.
Development of Templates (e.g. for AMP or MEL) to be included in EASA AMC/GM.
Potential use of Industry Standards that can be used to reduce the number of audits.
Metrics and data need to be collected from organizations to support the case for the above actions.
SMS: a common industry standard should be developed to prepare for future Safety Management System requirements for Part-145 organizations.
Training: different approaches for certifying maintenance staff should be investigated to better balance cost and safety considerations.
EASA Survey for Part-66/Part-147 Regulatory Review
GAMA is now pursuing a range of actions at national, European and International levels to address these opportunities and will be convening follow-on meetings in the coming months. If you are interested in more information about this initiative, please contact GAMA's Director of European Regulatory Affairs, Kyle Martin (kmartin@gama.aero).