Support Innovation and Jobs with Aircraft Certification Reform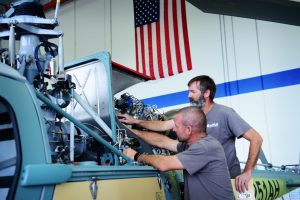 Congress has a simple choice this year – pass legislation to further aviation manufacturing and jobs by removing unneeded barriers to aircraft certification, or weaken our nation's aviation leadership by failing to act. Currently, the FAA is locked into regulatory processes that too often discourage innovation and the fielding of new safety-enhancing technologies, frustrating large and small businesses and their customers.
Strong bipartisan support already exists for aircraft certification reforms. In the 114th Congress, the House Transportation and Infrastructure Committee and the Senate each passed its version of the FAA Reauthorization, which included provisions that would have reformed and streamlined the FAA's way of doing business, leading to more effective and efficient safety oversight by the agency and moving the general aviation industry forward. It's time for lawmakers to pass certification reform legislation. Such legislation must:
Drive key certification and regulatory reform at the FAA;
Demand more aggressive FAA engagement in non-U.S. markets with other aviation authorities to gain expedited validation of products;
Facilitate industry introduction and installation of new safety innovations and technologies; and
Ensure that scarce FAA and industry resources are utilized more effectively and efficiently.
By passing reform legislation, Congress will enable general aviation manufacturers and maintenance, repair, and overhaul centers to improve aviation safety, support job growth, facilitate exports, and strengthen the health of general aviation, which provides $219 billion in economic output annually. We urge Congress to act to ensure the U.S. remains a leader in aviation and competitive in the global aviation marketplace.
Aircraft Certification Reform in the News
House Subcommittee on Aviation Ranking Member Rick Larsen Calls For FAA Bill That Reforms FAA Certification Processes
Blunt, Cantwell Ask for Certification And Regulatory Overhaul, But No ATC Spinoff
Blunt Urges Commerce Committee to Support Reforms to Strengthen American Manufacturing
Cantwell Urges Streamlined New Certification Reforms For Nation's Aerospace Industry
Op-ed by Rep. Sam Graves and Rep. Rick Nolan: Why Congress Needs to Pass Aircraft Certification Reform