Today, the General Aviation Manufacturers Association (GAMA) announced that the team from Raisbeck Aviation High School in Tukwila, Washington, is the winner of the 2021 GAMA Aviation Design Challenge. The team from The Pennington School in Pennington, New Jersey, is the second-place winner.
"We are extremely proud of the work done by the winning teams from Raisbeck Aviation High School and The Pennington School. Their submissions showed a sophisticated grasp of aircraft design for accomplishing an important and timely simulated mission – delivering COVID-19 vaccines to a remote area. In the coming weeks, we look forward to offering these teams unique experiences that showcase the rewarding opportunities available in the general aviation industry," said Pete Bunce, GAMA President and CEO. "We also want to applaud all the teams that participated in the ninth annual GAMA Aviation Design Challenge for their commitment to learning the dynamics of flight and aviation design even while navigating pandemic-related challenges."
"I want to congratulate the team from Raisbeck Aviation High School in Tukwila, Washington for their ingenuity and efforts in winning the Aviation Design Challenge. STEM education is so important for building America's future. It is no surprise that the next generation of aviators and innovators is found right here in the Pacific Northwest," said Washington Senator Maria Cantwell, Chair of the Senate Committee on Commerce, Science, and Transportation.
Nearly 50 high school teams, representing 26 states, entered the 2021 GAMA Aviation Design Challenge. During the first portion of the challenge, teams used complimentary "Fly to Learn" curriculum to learn the principles of flight and airplane design, which is developed in alignment with national STEM standards. During the second portion of the competition, teams applied their knowledge to virtually modify an airplane design and compete in a fly-off using X-Plane software, which is a comprehensive and powerful flight simulator for personal computers.
This year's mission was to modify a Glasair Sportsman to fly as many COVID-19 vaccines as fast as possible from Seattle, Washington, to Packwood, Washington. The teams needed to design their aircraft to maximize transportable payload and successfully land on a small runway, surrounded by high terrain. Judges scored the teams based on performance parameters, a checklist of steps involved in the demonstration flight and a video submission in which the team summarized what they learned.
Members of the first-place team from Raisbeck Aviation High School include Atticus Bhat, Garett Griner, Jason Poon, Alex Shemwell and Lyra Young. Their design included the addition of spoilers, installation of retractable gears and a narrowing of the fuselage profile to reduce drag. Their first-place prize includes a unique general aviation manufacturing experience at CubCrafters, tours of GAMA member company facilities in the Seattle area, demonstration flight opportunities and much more.
The Raisbeck Aviation team was taught by Steven Chapman, with volunteer assistance by Dave Jones. The team had the following to say about their experience:
"Without the opportunity to hold GAMA meetings in person, the five of us had to be self-driven, organized, and hold each other accountable throughout the design and testing process. COVID changed everything about how we competed this year: three brand new teammates, no live interaction and members with insufficient tech at home. We worked through numerous design phases, testing and compiling data from each to create the final aircraft. Our hard work and dedication to the challenge throughout the pandemic really highlights our deep passion for aviation and commitment to one another. We're incredibly proud of our work and could not be happier with the outcome. We would like to thank our wonderful school, Raisbeck Aviation High School, and our fantastic mentor Dave Jones; we could not have done this without your support."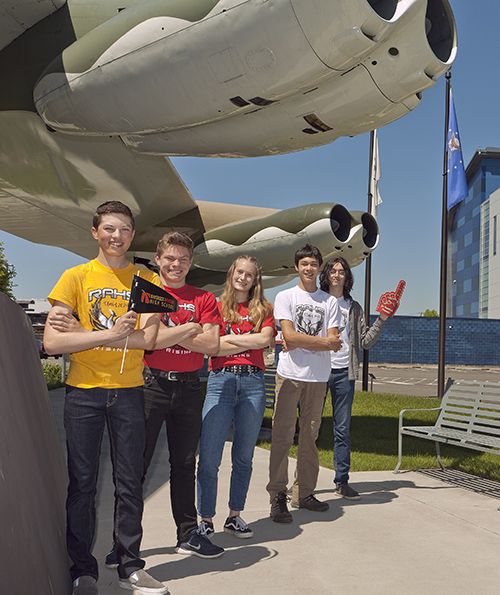 2021 GAMA Aviation Design Challenge first-place team from Raisbeck Aviation High School.  From left to right: Alex Shemwell, Garett Griner, Lyra Young, Jason Poon and Atticus Bhat.
Members of the second-place team from The Pennington School include William Arthur, Nicholas Callan, Gavin Cui, Sebastian Drezek, Jonathan Eaton, Michael Krajci, Avani Prakash, Charles Sanders, Elias Sebti, Jack Wang and David Zhang. Their design included changes incorporating an increase in aircraft wingspan and area, increase in engine power and a streamlined fuselage shape for increased fuel efficiency. They will receive a two-day Redbird Flight Simulations STEM Lab Camp.
The Pennington School team was taught by Ryan Vogt. He had the following to say about his students:
"Whether they were meeting virtually or in person, the students in the Aviation Club at The Pennington School displayed a great excitement and drive for completing the challenge this year. It was a completely student run endeavor, as members with previous experience led the introductory lessons and ensured everyone understood the material and software. Our team leaders, Jonathan and Jack, ensured a collaborative environment so that all voices were heard. This experience was a great opportunity for our students to push themselves in an area they are very passionate about. They consistently learned and improved from their mistakes, ever progressing towards their goals. I am very impressed by their accomplishments and was glad to be a small part of the process."
The 2021 Aviation Design Challenge sponsoring companies include Bombardier, Cirrus Aircraft, ClickBond, CubCrafters, Daher, Embraer, Eviation, Garmin, Gulfstream Aerospace Corporation, Hartzell Propeller, magniX, Redbird Flight Simulations, Signature Flight Support, Textron Aviation and Wipaire. Sponsors provide financial support for the competition as well as in-kind donations.
To learn more about the organizations involved in structuring  the competition, visit gama.aero, flytolearn.com and x-plane.com.
###