Arsenal of Democracy Flyover Leaders Mourn Loss of Brig. Gen. Charles McGee USAF (RET)
WASHINGTON, D.C. – The organizers of the Arsenal of Democracy Flyover were saddened to learn that Brigadier General Charles Edward McGee passed away on Sunday, January 16, at the age of 102.
McGee was a decorated U.S. Army Air Force and U.S. Air Force pilot, who was a Tuskegee Airman and served in World War II, Korea and Vietnam. During his service, he flew a record 409 combat missions. McGee earned several military honors including the Legion of Merit with Oak Leaf Cluster, the Distinguished Flying Cross with Two Clusters and two Presidential Unit Citations. He was also awarded the Congressional Gold Medal in 2007 and inducted into the National Aviation Hall of Fame in 2011.
McGee was honored for his service during both the 2015 and 2020 Arsenal of Democracy Flyovers commemorating the 70th and 75th anniversaries of the end of World War II.
"Brigadier General Charles McGee was a true American hero and the kindest and most humble patriot I have ever known. His dedication and service to our nation went far beyond his time and distinction as a three-war combat fighter pilot. He has been a role model to so many of us and even into his centenarian years, he tirelessly promoted education and careers in the aerospace to future generations. Brigadier General McGee lived an exemplary life and we have been so blessed to have him be a prominent part of some very special aviation events. We extend our deepest and heartfelt condolences to his family and friends. He will forever live in our hearts and be remembered as a national treasure," said Pete Bunce, President and CEO of the General Aviation Manufacturers Association (GAMA), and Arsenal of Democracy Executive Committee member.
"For three-quarters of a century, Brigadier General McGee helped put a face on the triumphs, sacrifice and patriotism of the people who helped to win World War II while also serving as a source of motivation and inspiration for the tens of thousands who heard him speak about his time as a Tuskegee Airman. Our nation has lost a true patriot," said John Cudahy, President of the International Council of Air Shows (ICAS), and Arsenal of Democracy Executive Committee member.
"The entire Commemorative Air Force family is saddened by the news of General Charles McGee's passing. General McGee was a Hero of three wars, always leaning forward and clearing paths for others to follow while being humble, strong, outspoken and a beacon for all. General McGee was a Giant among men, a friend to all, a mentor to many and a shining example to our entire country. He, and his family, will be in our thoughts and prayers and he will forever be a part of the fabric of the Commemorative Air Force," said Hank Coates, President of the Commemorative Air Force (CAF), and Arsenal of Democracy Executive Committee member.
During the 2015 Arsenal of Democracy Flyover Gala, Brig. Gen. McGee participated in a World War II Combat Veterans panel.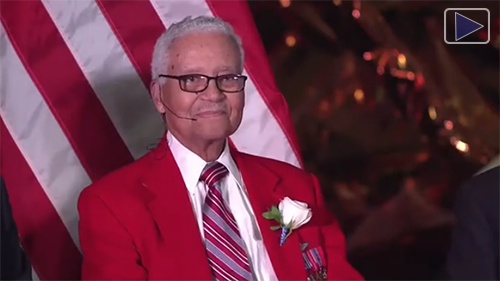 Click on the image above to view the Arsenal of Democracy Gala – Interview with WWII Air Combat Veterans or visit youtu.be/H8ERjJJcxbg.
In 2020, the Arsenal of Democracy Flyover released a video tribute entitled "Victory in Europe – VE Day 75 Years Later", which included an interview with Brig. Gen. McGee.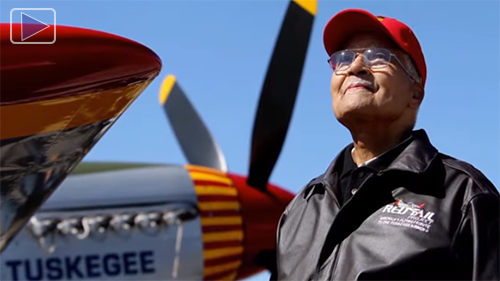 Click on the image above to view Victory in Europe – VE Day 75 Years Later or visit youtu.be/DC6VBnh86CQ..
During a recent GAMA Board of Directors meeting, Pete Bunce led a discussion with Brig. Gen. McGee chronicling his life, his service as a pilot during three wars and his dedication to inspire future generations.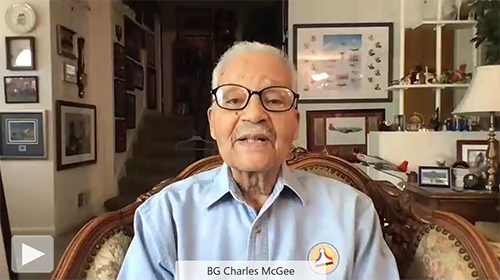 Click on the image above to view the discussion with Brig. Gen. McGee or visit youtu.be/r3lhyd6A3Mw.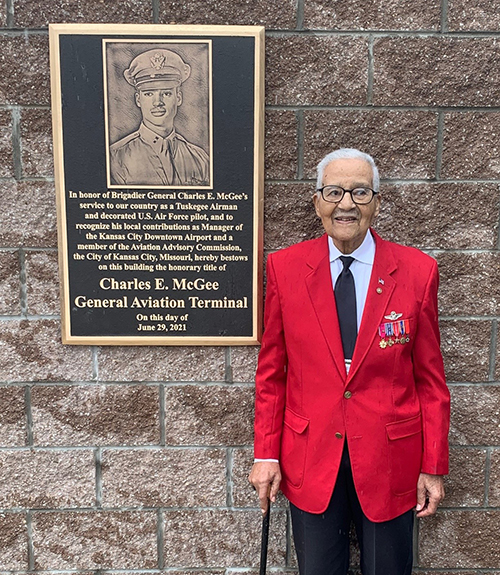 On June 29, 2021, the General Aviation Terminal at Charles B. Wheeler Downtown Airport in Kansas City, Missouri, was named after Brig. Gen. McGee.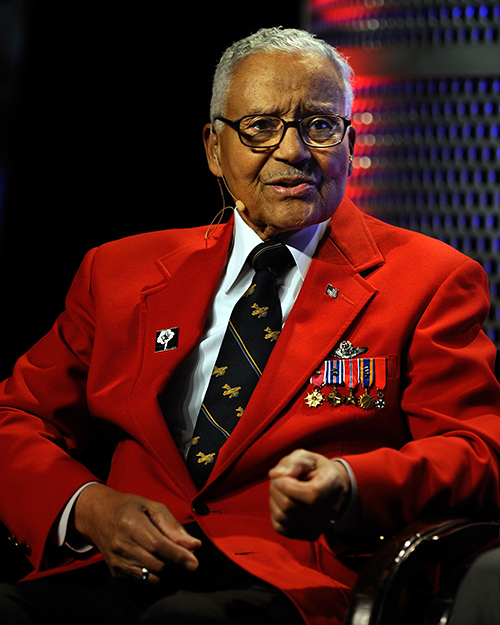 Brig. Gen. McGee speaks at the 2013 ICAS Convention. Photo credit, Marc St. Pierre.
###
---
GAMA is an international trade association representing over 100 of the world's leading manufacturers of general aviation airplanes and rotorcraft, engines, avionics, components and related services. GAMA's members also operate repair stations, fixed based operations, pilot and maintenance training facilities and manage fleets of aircraft. For more information, visit GAMA's website at www.GAMA.aero.