GAMA Accelerates Dialogue with European Regulators on eVTOL Aircraft
Brussels, Belgium – The General Aviation Manufacturers Association (GAMA) today announced it has accelerated a dialogue with European regulators on the development of electric vertical take-off and landing (eVTOL) aircraft and technologies. Thirty senior eVTOL company figures from eight countries met with EASA (European Aviation Safety Agency), the European Commission and SESAR JU (Single European Sky ATM Research Joint Undertaking) over two days in Cologne and Brussels to discuss this burgeoning sector of the aviation industry.
The industry and government leaders were also joined by Dorothee Bär, the German Federal State Minister for Digitisation, who is one of the most prominent proponents of Urban Air Mobility in Europe.
"It is great that the industry is getting together proactively to liaise with EASA on common standards," Bär said. "I think there is tremendous potential for Europe and beyond, once Urban Air Mobility will become part of our daily life."
This dialogue forms a key part of the association's efforts towards increasing automation, autonomy and de-carbonisation in aviation. GAMA is focused on prioritising the safe introduction of these new systems and technologies whilst making flying more accessible to the general public.
The group addressed the numerous opportunities and challenges posed by these new aircraft and business models, including Urban Air Mobility – commonly referred to as 'air taxis.' These new vehicles offer extremely quiet, green operations for a wide array of uses. Discussions focused on the regulatory framework needed for the safe and sustainable integration of these vehicles into Europe's airspace. Topics raised include certification, maintenance, operations, licensing, and the development of U-Space (UTM).
"Global manufacturers have been working within GAMA over the last 12 months to prepare the ecosystem for eVTOL. We are really pleased that EASA is developing a path forward for this new era of aviation," said Anna Dietrich, GAMA eVTOL Subcommittee Co-Chair and Terrafugia Co-Founder and Regulatory Affairs. "Leveraging the body of existing rules and standards wherever possible while appropriately addressing the new aspects of this industry will help us efficiently achieve our shared goals for safe, innovative vehicles that provide significant value to society"
"We are very encouraged that Europe is moving ahead without delay and with a focus on performance-based rules," said Dr. Tassilo Wanner, GAMA eVTOL Subcommittee Co-Chair and Lilium Vice President of Global Public and Regulatory Affairs. "Our work this week has been to ensure we are fully aligned on how to facilitate further growth of and timely operations by this evolving industry."
Below, you can view a photo of the GAMA eVTOL Subcommittee with EASA management and experts, led by EASA Certification Director Trevor Woods, in Cologne on 13.11.18.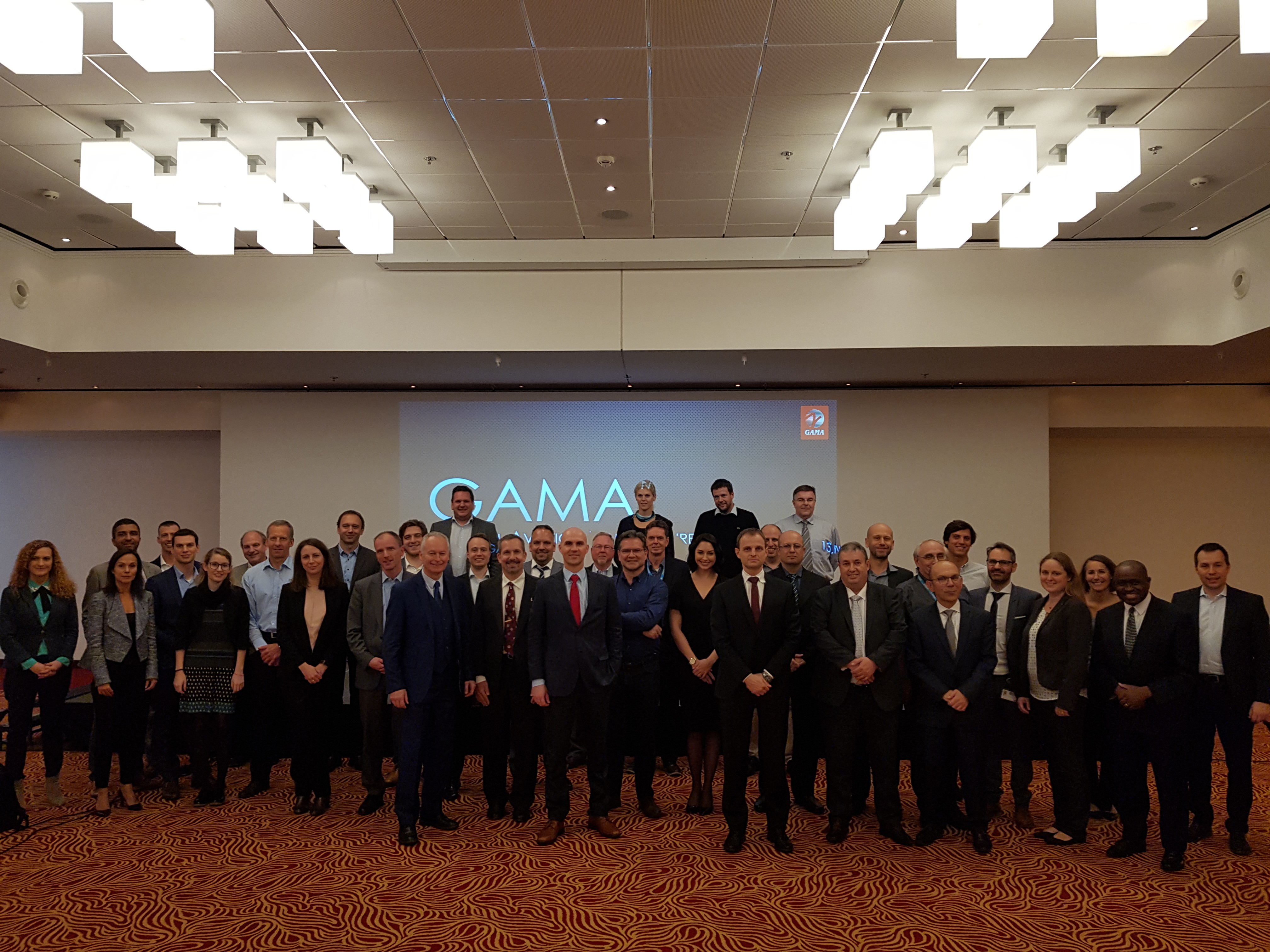 For additional information, please contact Sarah McCann, GAMA Director of Communications, at +1 (315) 796-1560 or smccann@gama.aero.
---
GAMA is an international trade association representing over 100 of the world's leading manufacturers of general aviation airplanes and rotorcraft, engines, avionics, components and related services. GAMA's members also operate repair stations, fixed based operations, pilot and maintenance training facilities and manage fleets of aircraft. For more information, visit GAMA's website at www.GAMA.aero.