GAMA and IAOPA Launch 2022 European General Aviation Survey
BRUSSELS, BELGIUM — The General Aviation Manufacturers Association (GAMA) and the International Council of Aircraft Owner and Pilot Associations (IAOPA), with the support of the European Aviation Safety Agency (EASA) and AERO Friedrichshafen, have launched the 2022 European General Aviation Survey. This annual survey of general aviation pilots and aircraft owners assists in providing a better understanding on ongoing trends to support safety analysis in Europe.
The 2021 survey gathered responses from over 1,000 general aviation pilots and aircraft owners, representing over 2,000 aircraft registered in 28 European countries. The results were shared with EASA to be incorporated into their Annual Safety Review to calculate accident rates for Non-Commercial Aeroplanes as well as support regulatory impact assessments and promote the benefits general aviation brings to the European economy.
The survey, and its results, are now being hosted on generalaviation.eu, a new unique website dedicated to promoting a better understanding of the value, interests and advancements of general aviation throughout Europe. The 2022 European General Aviation Survey will close on 17 April 2022.
This week, EASA's Domain Safety Risk Manager, Yngvi Yngvason and GAMA's European Operations and Safety Manager, Cate Brancart, presented an in-depth discussion about how the GAMA-IAOPA Survey data is used to support EASA's safety analysis work as part of EASA's GA Season Opener 2022.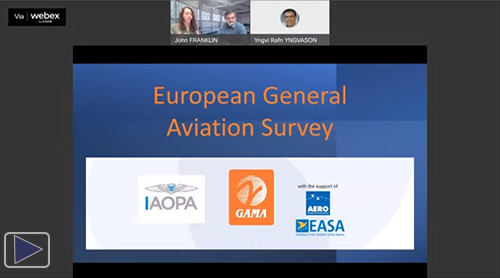 Click on the image above to view the GAMA-IAOPA Survey discussion during EASA's GA Season Opener or visit https://youtu.be/HKss_q0Wen0?t=243.
Earlier this year, AERO Friedrichshafen hosted Community News, a panel discussion with Michael Erb (IAOPA), John Franklin (EASA) and Kyle Martin (GAMA) regarding the latest results and importance of the survey. The panel was moderated by Volker Thomalla, Head of Communication Aerospace Cluster for Messe Friedrichshafen.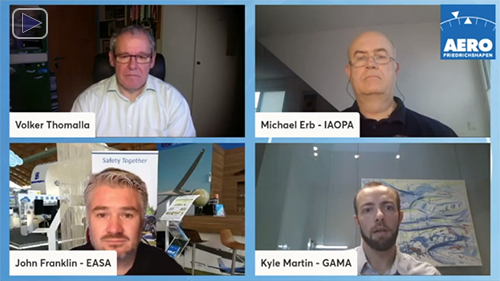 Click on the image above to view COMMUNITY NEWS by AERO Friedrichshafen – GAMA GA Survey or visit https://youtu.be/K1sCjdzL7lM.
For additional information regarding the survey, please contact Cate Brancart, Manager, European Safety and Operations, GAMA, cbrancart@gama.aero.
###

---
GAMA is an international trade association representing over 100 of the world's leading manufacturers of general aviation airplanes and rotorcraft, engines, avionics, components and related services. GAMA's members also operate repair stations, fixed based operations, pilot and maintenance training facilities and manage fleets of aircraft. For more information, visit GAMA's website at www.GAMA.aero.