GAMA Announces 2022 Aviation Design Challenge Winners
WASHINGTON, D.C. – Today, the General Aviation Manufacturers Association (GAMA) announced that the team from Erie 1 BOCES Harkness Career and Technical Center in Cheektowaga, New York, is the winner of the 2022 GAMA Aviation Design Challenge. The team from Raisbeck Aviation High School in Tukwila, Washington was awarded second place.
"It is inspiring to see teams from all over the country put forth such great effort into the Aviation Design Challenge. We are particularly proud of the work put forth by the teams from Harkness Career and Technical Center and Raisbeck Aviation High School and look forward to rewarding these teams with additional exceptional experiences which will continue to foster interest into all aspects of general aviation. Now in its tenth year, the challenge continues to expand and grow enthusiasm for our industry," said Pete Bunce, GAMA President and CEO.
Over 65 high school teams, representing 28 states, entered the 2022 GAMA Aviation Design Challenge. During the first portion of the challenge, teams used complementary "Fly to Learn" curriculum to learn the principles of flight and airplane design, consistent with national STEM standards. During the second portion of the competition, teams applied their knowledge to virtually modify an airplane design and compete in a fly-off using X-Plane software.
This year's mission was to modify a CubCrafters NX Cub with a nosewheel to fly from Seattle, Washington, to Packwood, Washington, to efficiently deliver a maximum payload. The teams needed to design their aircraft to maximize transportable payload and successfully land on a small runway, surrounded by high terrain. Judges scored the teams based on performance parameters, a checklist of steps involved in the demonstration flight and a video submission in which the team summarized what they learned.
Members of the first-place team from Harkness Career and Technical Center include Matthew Brooder, Zach Cid, Tyler Doran, Joseph Illos, Connor LaPenna, Mark Maglietto, Ethan Mouyeos, Ryan Myers, Christian Pendola, Tyler Robertson, Maverick Roth, Thomas Schumacher, Thomas Shine, Yulian Sirakov, Jessica Thompson, Aidan Vogt and Bryce Zeltman. Their design included increased wingspan and horsepower and added winglets and speed brakes. The team's first-place prize includes a CubCrafters Manufacturing Experience, tours of Boeing and Signature Aviation facilities, demonstration flight opportunities and much more.
The Harkness Career and Technical Center team was taught by Tom Leach who had the following to say about the team:
"The students did an outstanding job this year working through the challenges of the GAMA Aviation Design Challenge. They used all the skills from the course along with the engineering design process to complete the project. They worked in a model where the students take the wonderfully detailed challenge with the CubCrafters model provided by GAMA and work solutions with team effort in mind. They were originally organized into three smaller divisions and near the end of the 6-week window put all the hard work from each division into the final class team design. Even two of the students: Jessica Thompson mentioned 'I enjoyed the team structure of the project, and appreciated the real-world layout and experience,' additionally Joe Illos mentioned "this is one of the coolest competitions I've done!!'. I am very proud of their accomplishments and driven effort for the challenge this year, this class of students earned this accomplishment."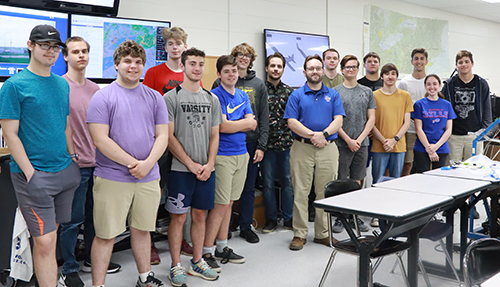 2022 GAMA Aviation Design Challenge first-place team from Erie 1 BOCES Harkness Career and Technical Center.
Members of the second-place team from Raisbeck Aviation High School include Emily Batig, Atticus Bhat, Garett Griner, Jason Poon, Blake Unger and Lyra Young. The team illustrated a well thought out design process, increased aspect ratio and decreased wing area, and decreased horsepower. They will receive a Redbird Flight Simulations STEM Lab.
The 2022 Aviation Design Challenge sponsoring companies include Boeing, Bombardier, Camp Systems, Cirrus Aircraft, Click Bond, CubCrafters, Embraer, Garmin, Gulfstream Aerospace Corporation, Hartzell Propeller, Jet Aviation, Pratt & Whitney Canada, Redbird Flight Simulations, Signature Aviation, Textron Aviation and Wipaire. Sponsors provide financial support for the prizes as well as in-kind donations.
To learn more about the organizations involved in structuring the competition, visit gama.aero, flytolearn.com and x-plane.com.
###
---
GAMA is an international trade association representing over 100 of the world's leading manufacturers of general aviation airplanes and rotorcraft, engines, avionics, components and related services. GAMA's members also operate repair stations, fixed based operations, pilot and maintenance training facilities and manage fleets of aircraft. For more information, visit GAMA's website at www.GAMA.aero.