GAMA Announces 2023 Aviation Design Challenge Winners
WASHINGTON, D.C. – Today, the General Aviation Manufacturers Association (GAMA) announced that the team from McIntosh High School in Peachtree City, Georgia, is the winner of the 2023 GAMA Aviation Design Challenge.  The team from Gonzaga College High School in Washington D.C. was awarded second place.
"GAMA continues to be inspired by the effort and creativity we see put forth by all the teams competing in the Aviation Design Challenge. We congratulate McIntosh High School and Gonzaga College High School for the insightful work they put into the challenge, especially as both teams were first time entrants. With the completion of our eleventh year, we have now had teams from all 50 states participate in the challenge, which is a great milestone for the program. We look forward to continuing to improve and grow the program so that we can inspire younger generations to consider fulfilling careers in general aviation," said Pete Bunce, GAMA President and CEO.
Over 80 high school teams, representing 38 states, entered the 2023 GAMA Aviation Design Challenge. During the first portion of the challenge, teams used complimentary "Fly to Learn" curriculum to learn the principles of flight and airplane design, consistent with national STEM standards. During the second portion of the competition, teams applied their knowledge to virtually modify an airplane design and compete in a fly-off using X-Plane software.
This year's mission was to modify a CubCrafters NX Cub to fly from Packwood, Washington, to Seattle, Washington, as quickly and efficiently as possible. The teams needed to design their aircraft to maximize speed and efficiency and successfully takeoff from an airport surrounded by high terrain. Judges scored the teams based on performance parameters, a checklist of steps involved in the demonstration flight and a video submission in which the team summarized what they learned.
Members of the first-place team from McIntosh High School include Aaron Maeder, Jada Reeves, Marc van Zyl, Matthew Villiger and Emily White. Their entry demonstrated an elaborate design process which included altering wing length and chord ratio; adding winglets, retractable landing gear and fairings; and reducing horsepower. The team's first-place prize includes a CubCrafters Manufacturing Experience, a tour of The Museum of Flight, demonstration flight opportunities and much more.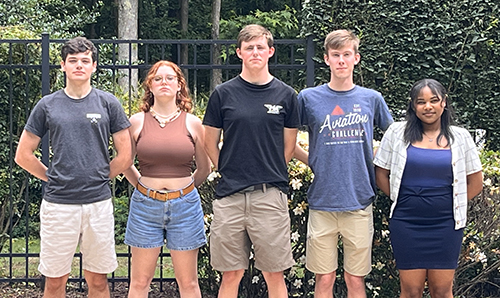 2023 GAMA Aviation Design Challenge first-place team from McIntosh High School. (From left to right:  Marc van Zyl, Emily White, Matthew Villiger, Aaron Maeder and Jada Reeves)
Members of the second-place team from Gonzaga College High School include Enzo Bunag, Hunter Cullina, Jack Deye, Reed Gray, Colin Heil and Paul Molinaro. The team illustrated a well thought out design process, increased aspect ratio and decreased wing area, and decreased horsepower. They will receive a Redbird Flight Simulations STEM Lab.
The 2023 Aviation Design Challenge sponsoring companies include Boeing, Bombardier, Camp Systems, Cirrus Aircraft, Click Bond, CubCrafters, Embraer, Garmin, Hartzell Propeller, Jet Aviation, Pratt & Whitney Canada, Redbird Flight, Signature Aviation, Textron Aviation and Wipaire. Sponsors provide financial support for the curriculum, software, and prizes as well as in-kind donations.
To learn more about the organizations involved in structuring the competition, visit gama.aero, flytolearn.com and x-plane.com.
###
---
GAMA is an international trade association representing over 100 of the world's leading manufacturers of general aviation airplanes and rotorcraft, engines, avionics, components and related services. GAMA's members also operate repair stations, fixed based operations, pilot and maintenance training facilities and manage fleets of aircraft. For more information, visit GAMA's website at www.GAMA.aero.