GAMA Opens Registration for 2021 Aviation Design Challenge
WASHINGTON, D.C. – Today, on National Aviation Day (U.S.), the General Aviation Manufacturers Association (GAMA) announced that registration for the 2021 Aviation Design Challenge has opened. This annual competition promotes aviation jobs and Science, Technology, Engineering and Mathematics (STEM) education in U.S. high schools through aviation-focused curriculum and a virtual fly-off.
"National Aviation Day is about celebrating the history and promoting the future of aviation. It is fitting that on this day we open registration for GAMA's ninth annual Aviation Design Challenge. This valuable program provides students with the opportunity to learn about the science of flight, the mechanics of creating aircraft and the career opportunities available in the general aviation industry," said Pete Bunce, GAMA President and CEO.
The Aviation Design Challenge is open to the first 150 schools that register to participate. Registered schools will receive free "Fly to Learn" curriculum, which is aligned with national STEM standards, to facilitate the learning of flight and airplane design principles. Teachers can guide their students through the curricula in approximately four to six weeks through in-person and/or virtual settings. The teams will then modify an airplane design and complete a mission in a virtual fly-off using X-Plane software, which is a comprehensive and powerful flight simulator for personal computers.
Completed challenge submissions will be scored by GAMA judges based on the fly-off and other performance parameters. The winning team will receive an all-expenses-paid general aviation experience. The second-place team will receive a STEM Lab Camp provided by Redbird Flight Simulations, an industry leading manufacturer of aviation training devices and tools.
Since its inception in 2013, the Aviation Design Challenge has reached over 3,500 students, from over 400 high schools, spanning 46 states and Washington, D.C. Past winners and entrants of the Aviation Design Challenge have gone on to pursue careers in aviation.
To register and to learn more about the challenge, please visit the GAMA Aviation Design Challenge webpage. Registration closes on December 17, 2020, or once all available slots are filled.
###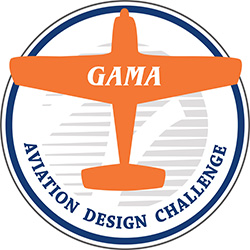 ---
GAMA is an international trade association representing over 100 of the world's leading manufacturers of general aviation airplanes and rotorcraft, engines, avionics, components and related services. GAMA's members also operate repair stations, fixed based operations, pilot and maintenance training facilities and manage fleets of aircraft. For more information, visit GAMA's website at www.GAMA.aero.